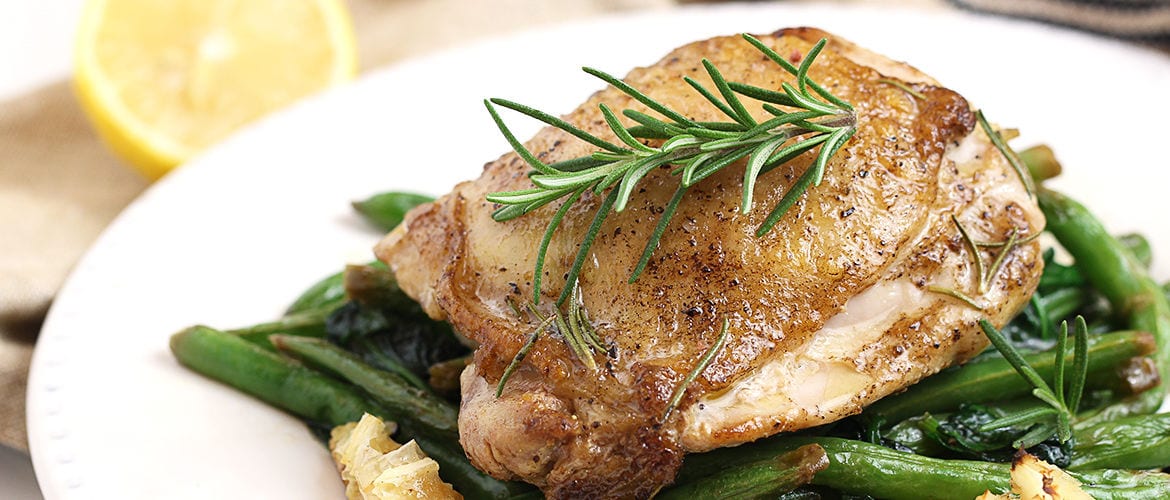 Recipe and image from the Keto Krate Blog
Prep Time: 10 min
Cook Time: 40 min
Total Time: 50 min
A simple, yet flavourful low carb dinner.
Ingredients:
4 chicken thighs
Salt and pepper
1 lemon
2 cloves of garlic
4 sprigs of fresh rosemary
2 tbsp butter
Instructions:
Heat up a cast iron skillet on high heat and preheat the oven to 400°F.
Season your chicken thighs on both sides with salt and pepper. When the skillet is hot, place the thighs in skin side down and let them sear until nice and brown. This should take about 5 minutes.
Then flip them over so the skin side is up and flavour the thighs by cutting a lemon in half and squeezing out as much juice as you can. Quarter the remaining lemon halves and throw them into the pan. The oils from the rind will flavour the chicken thighs further when baking.
Roughly chop 2 cloves of garlic and add them in to the skillet as well as some fresh rosemary.
Place the skillet in the oven and bake for about 30 minutes.
Take the skillet out of the oven and add some butter to the tops of the chicken thighs to add flavor, moisture and extra crispiness. Bake for an additional 10 minutes.
Serve with some sautéed green beans and a salad!
Clinically diagnosed with multiple sclerosis at the age of 28, Pam chose an alternative approach to recovery. Now decades later and still symptom free, she coaches others on how to treat the root cause of chronic disease, using a holistic approach. She can teach you how, too.
Pam is the author of Become a Wellness Champion and founder of Live Disease Free. She is a wellness expert, coach and speaker.
The Live Disease Free Academy has helped hundreds of Wellness Champions in over 15 countries take charge of their health and experience profound improvements in their life.