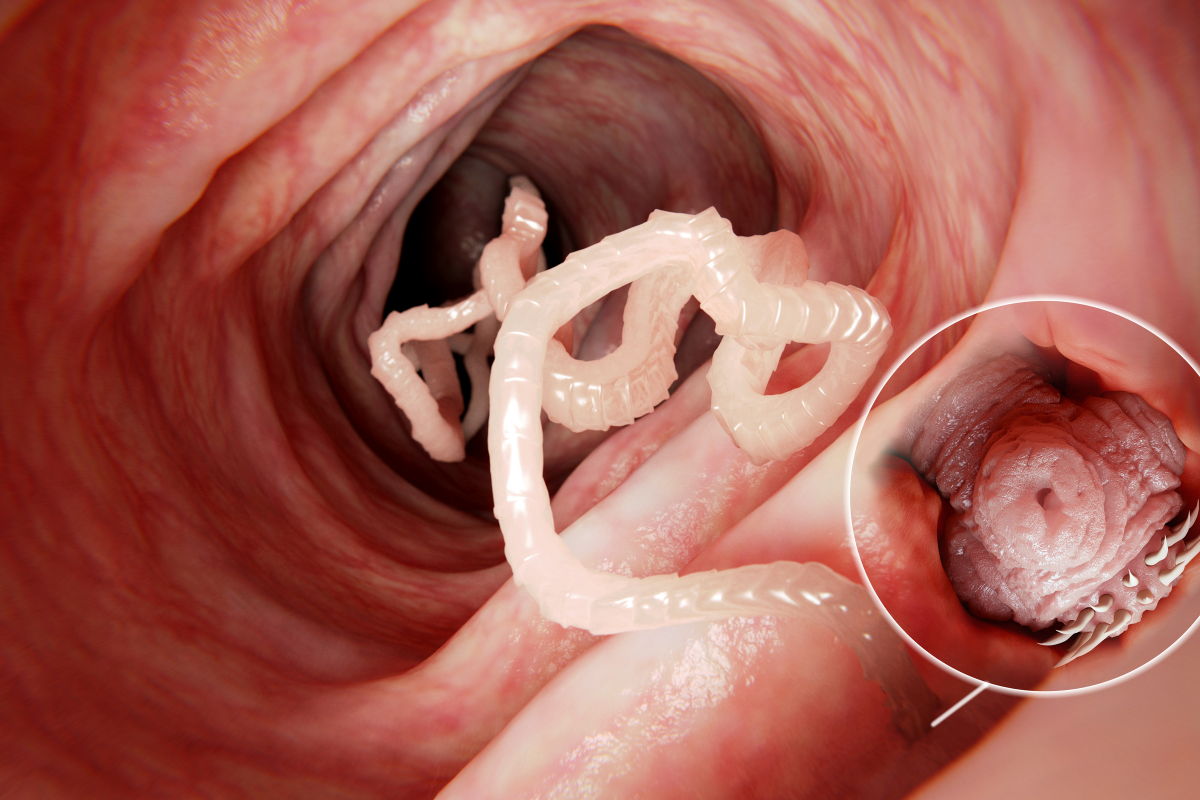 Pam Bartha shares the journey of one of our current students who is recovering from multiple sclerosis while following the Live Disease Free Plan. Pam shares her student's health history, symptoms and diagnosis, the steps she is taking to recover, the treatments that she tested well for, pictures of parasites she has passed and the miraculous improvements that she is already enjoying.

Health History
43 years old, lives in the USA
Before MS – Worked three jobs, played tons of sports, very social
Symptoms started in 2010
Diagnosed in 2011 with relapsing remitting MS
Current diagnosis – Secondary progressive MS, Hashimoto's, skin lupus
Symptoms – fatigue, foggy head, poor memory, pain, poor balance, spasticity, weakness in legs, bladder issues, mobility impacted, used a walker.
Medication
Pain medication
Anti-inflammatory meds
Mavenclad – MS disease modifying drug that kills B and T lymphocytes
Sertraline – anti-depressant, anti-anxiety, treats obsessive compulsive disorder, post-traumatic stress disorder, social anxiety disorder
Tizanadine – muscle relaxant that relieves spasms, cramping, and tightness of the muscles
Dalphampradine – may improve walking
Supplements
Wahls protocol supplements
Things she tried in the past – Wahls protocol, chiropractic, naturopath, water aerobics.
No long lasting benefits from anything she tried in the past.
She joined the Live Disease Free Academy on Feb 1, 2023
Feb 13th update
Following the Live Disease Free Diet
Symptom improvements – "I have noticed better sleep. My legs don't cramp in the middle of the night, and I can go back to sleep much more easily than I used to. I am not as tired when I wake up. I have more energy to get things done around the house. These improvements are very exciting for me. I am very grateful and hopeful."
Feb 23rd Infection Survey – past and current symptoms
Fungal symptoms – allergies, dandruff, fingernail toenail fungus
Borrelia symptoms – joint pain, joint stiffness, word finding problems, fatigue, headache, tinnitus, neuropathic pain, buzzing at the bottom of feet, sensitive to sound, low frustration tolerance, low libido, numbness, muscle weakness, cognitive impairment, chronic fatigue, lack of endurance, menstrual disorders, OCD behavior, anxiety
Other parasite symptoms – constipation, gas or bloating, chronic fatigue, swollen achy joints, backache, muscle, joint pain, lower back pain, thinning or hair loss, brain fog, cysts, rashes, general weakness, poor coordination, loss of balance, spastic gate
Feb 20th Update
Following the Live Disease Free diet very well and enjoying it
Menses this past week and no symptoms – no cramps or cravings
Bowel movement every other day. Ordered supplement to relieve constipation
Chopped raw garlic with meals
Contacted practitioner for energy testing
Bladder not yet improving
Found a biological dentist
Ordered: vitamin C, oxy-powder, cistus tea, juniper extract, Candida Stop, chlorella, oxidizing agent for enema and a plant sourced multivitamin mineral supplement.
Symptom improvements – "I lost weight which needed to and I feel a lot better. My blood pressure has returned to normal. I had an appointment with my MS doctor today for a 6-month check-up. I am stronger now than I have been in quite a while. I have discontinued tizanadine at night. I no longer need it. I am able to fall asleep, stay asleep and fall back to sleep after using the bathroom at night.
I am very excited about this journey. I talk about this program all the time to anyone who will listen. I have shown my friends the pictures of the parasites from the students. If that doesn't make you a believer, I don't know what will. I honestly can hardly wait to take pictures of my own parasites. I know that sounds weird, but I am!
I feel like I am starting to get the hang of this. At first, I wanted to rush and get started on the treatment. I am glad that I have not started yet. I want to make sure I get it right and not rush my body and that I fully understand what you are teaching.
I am so, so, so grateful to you for all of this. I don't think I can say that enough!"
March 7th Update
Slowly decreasing the dalphamperdine medication
Still taking dalphamperdine and sertraline. I hope to be off both of them soon!
Taking Candida Stop and chlorella
Drinking cistus tea
Ordered a Coloma board for doing enemas
Ordered berberine
Working on my 30, 60 and 90 day and 6 month goals
Symptom improvements – "I continue to have more feeling in my right leg. My right hip area is also becoming looser which is helping my gate. My core body/muscle structure is loosening up and working better together/more cohesively. It's a nice and unusual feeling for me. I have had less bladder urgency this past week and that excites me! Still sleeping very well – 8-10 hours. One night this week I slept until 6:15am without getting up to go to the bathroom. It's been years! God told me a long time ago he was going to heal me."
March 13th update
Following the LDF diet with excellence, taking a plant sourced multivitamin mineral  supplement, a probiotic supplement, berberine, Candida Stop, camu camu, Oxypowder, antihistamine, chlorella and iron supplement!
Stating juniper tincture
Slowly decreasing prescription medications
Booked appointment to be energy tested
I ordered an enema bag
Reviewed my bloodwork results.
March 19th Update
Started taking oxidizing agent orally and via enemas.
Symptom improvements – "I am still sleeping well. I can stand a lot longer than I have been able to in a long time, like hours!  I still need something to lean against, but I can stand and I love it! I have more feeling in the toes on my right foot which is the foot affected by MS. I have also noticed I have an energy burst later at night. At about 7 or 8 pm some nights I can almost walk without thinking about it. When I put my head down, I get the electrical pulse down my spine. I still have this but it is not as intense. I think this is a very good thing. It is very exciting for me."
March 22nd Update
I was energy tested today
She recommended certain supplements, but I wanted to run them by you first.
Treatments that tested well: Tinidazole, Ketoconazole
Things that didn't test well: ivermectin, fluconazole, albendazole, praziquantel, pyrantel pamoate, mebendazole, itraconazole and hydroxychloroquine.
She said these may work later but I did not test well for them right now. She said I have big parasites right now that need to be treated.
March 29th Update
"I went back to the energy tester today and asked her to only test what I brought and I let her know I didn't want any other services. She understood and is still very excited to support me. I tested well for praziquantel, tinidazole, itraconazole, ivermectin and ketoconazole."
April 10th Update
The following are pictures from her first 2 days of bowel movements (BM) with no enemas. She did an enema after her BM on day 2 and saw more small worms.
Day 1 praziquantel – mostly larger worms and biofilm
Day 2 praziquantel – 1 larger worm and tons of tiny worms and biofilm.
April 16th Update – First 7 days of treating
Symptom improvements – "My right leg is stronger. My gate is getting better. I am standing up straighter. I am moving faster with my walker and with less effort. I was able to be outside in the sun for hours on Saturday and I could handle it!!! I have way more energy. Multiple people from church have commented on how much better I am moving around over the past few weeks.
I am sleeping even better at night, which I didn't think was possible! I am having more control over my bladder which is so nice. I am continuing to follow the eating plan with excellence and loving it!
I am so excited about all of this and can't wait to continue in this process. Thank you, thank you, thank you!"
April 9th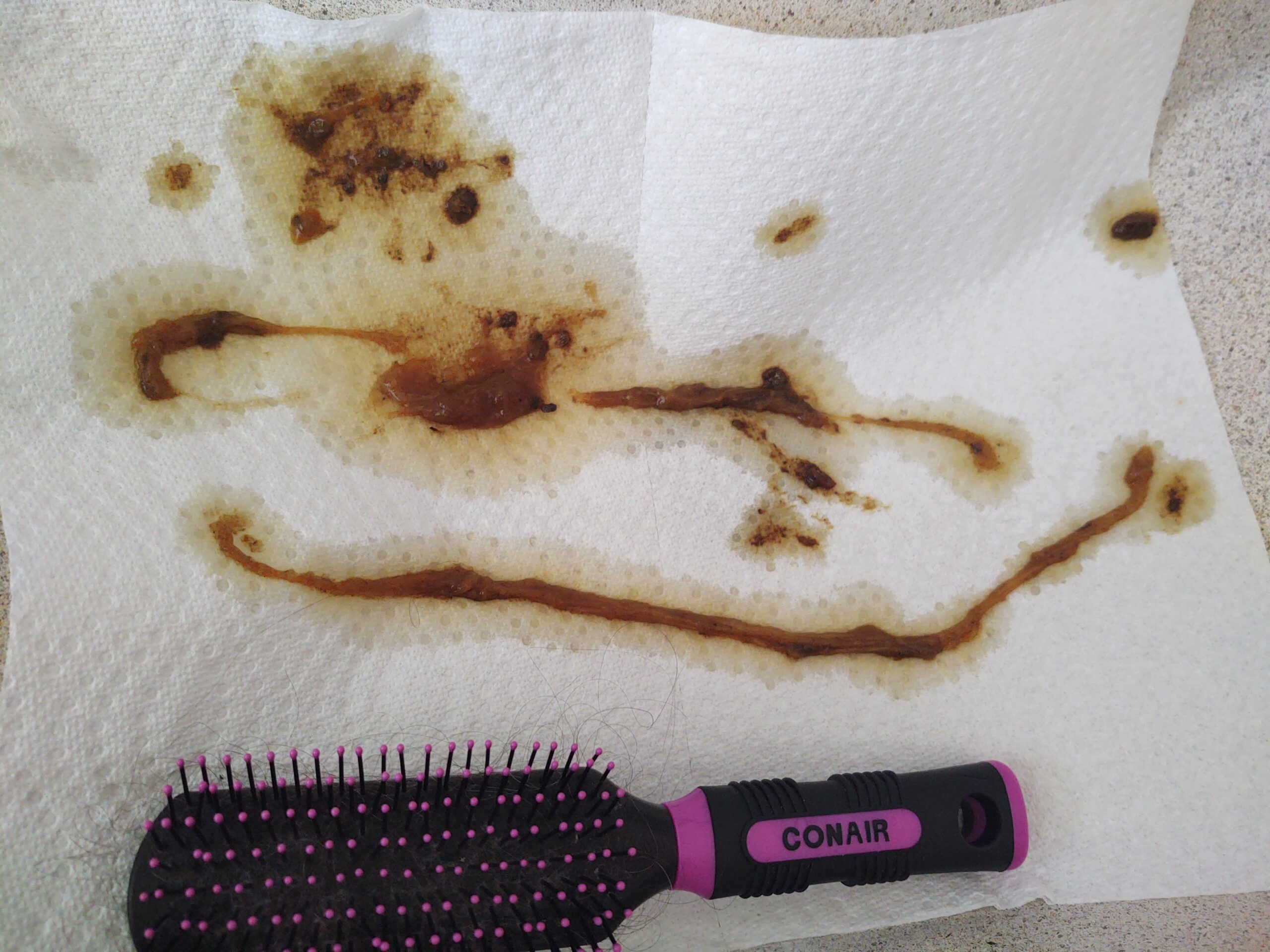 April 10th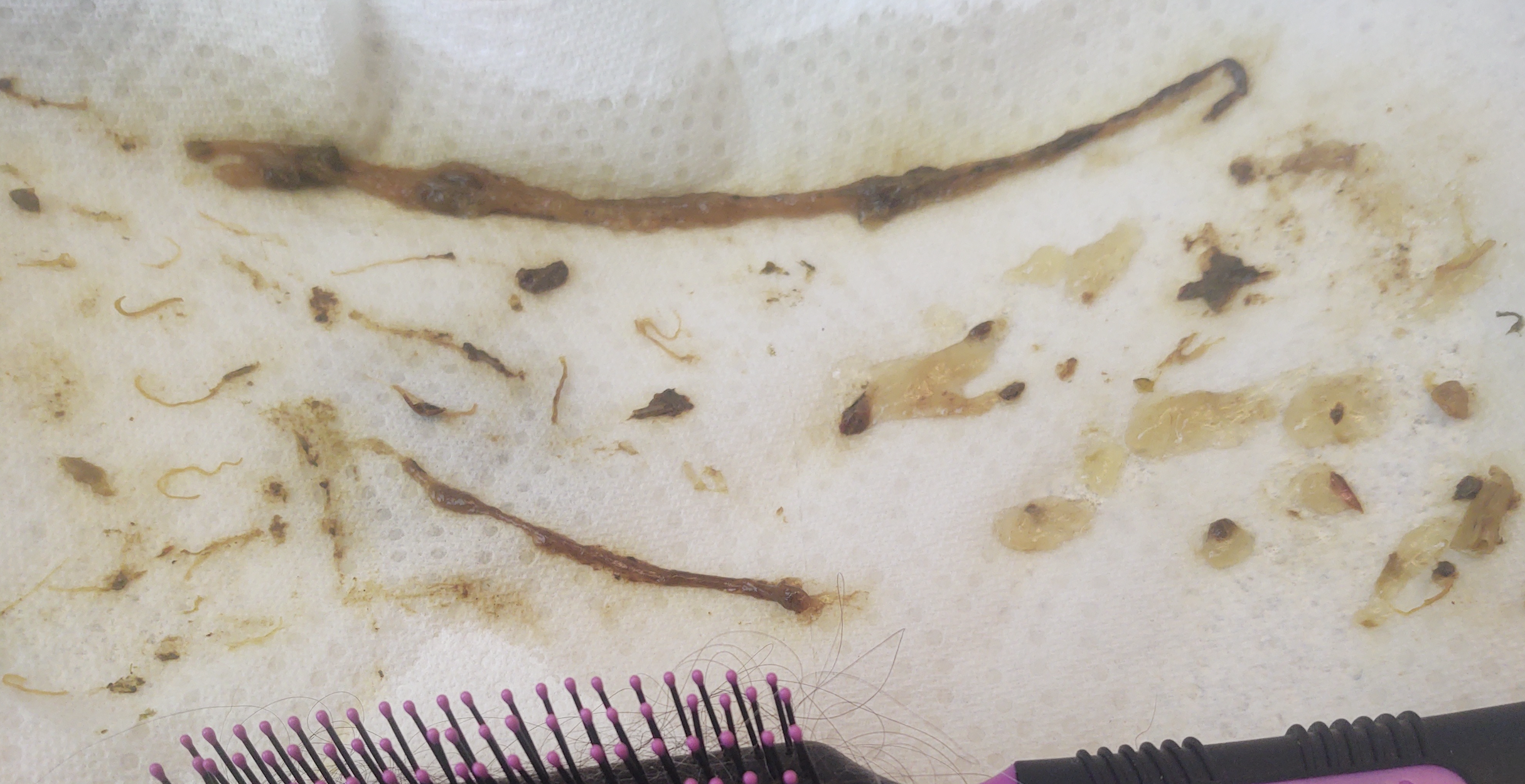 April 11th 
April 12th
April 13th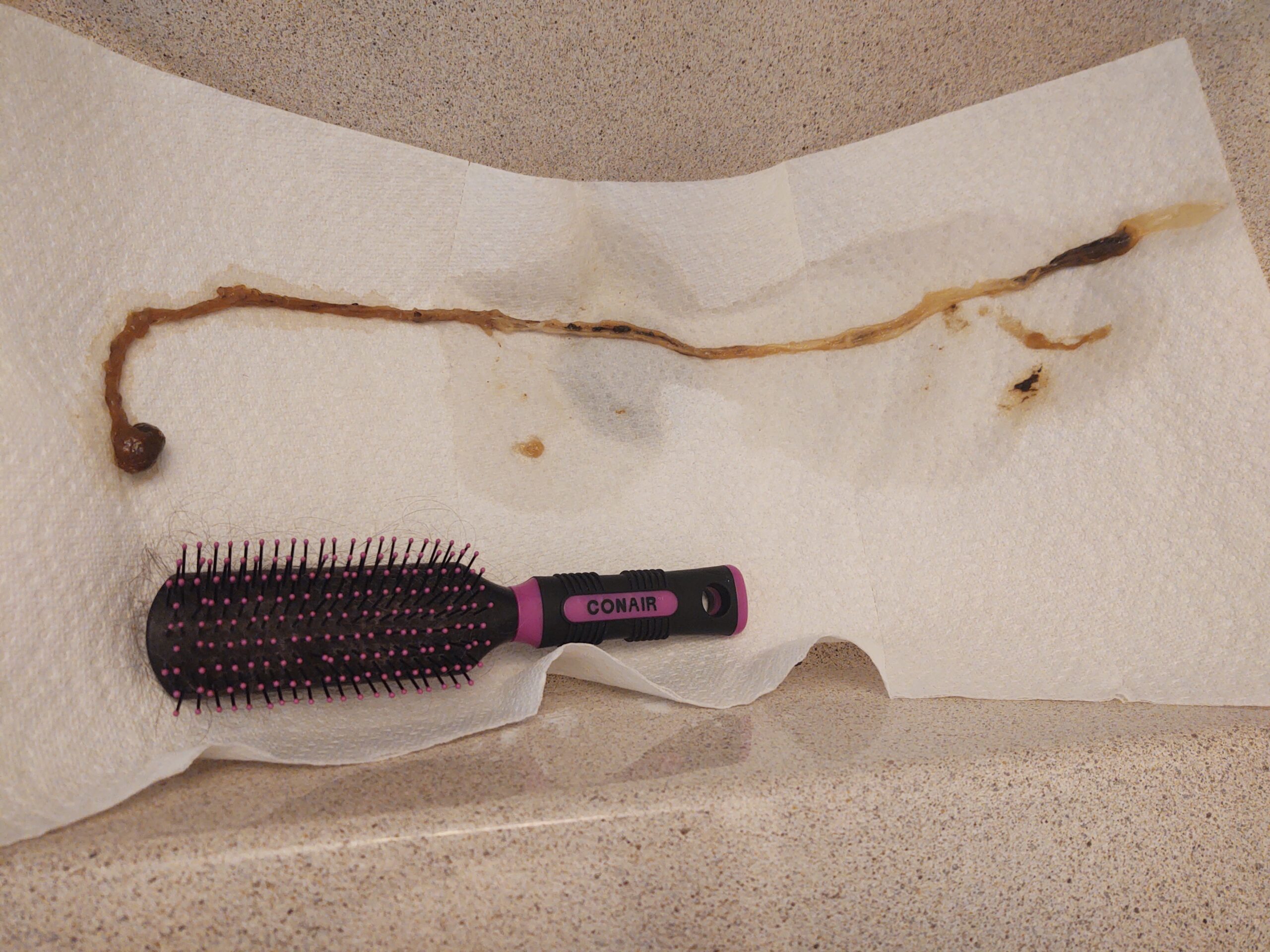 April 14th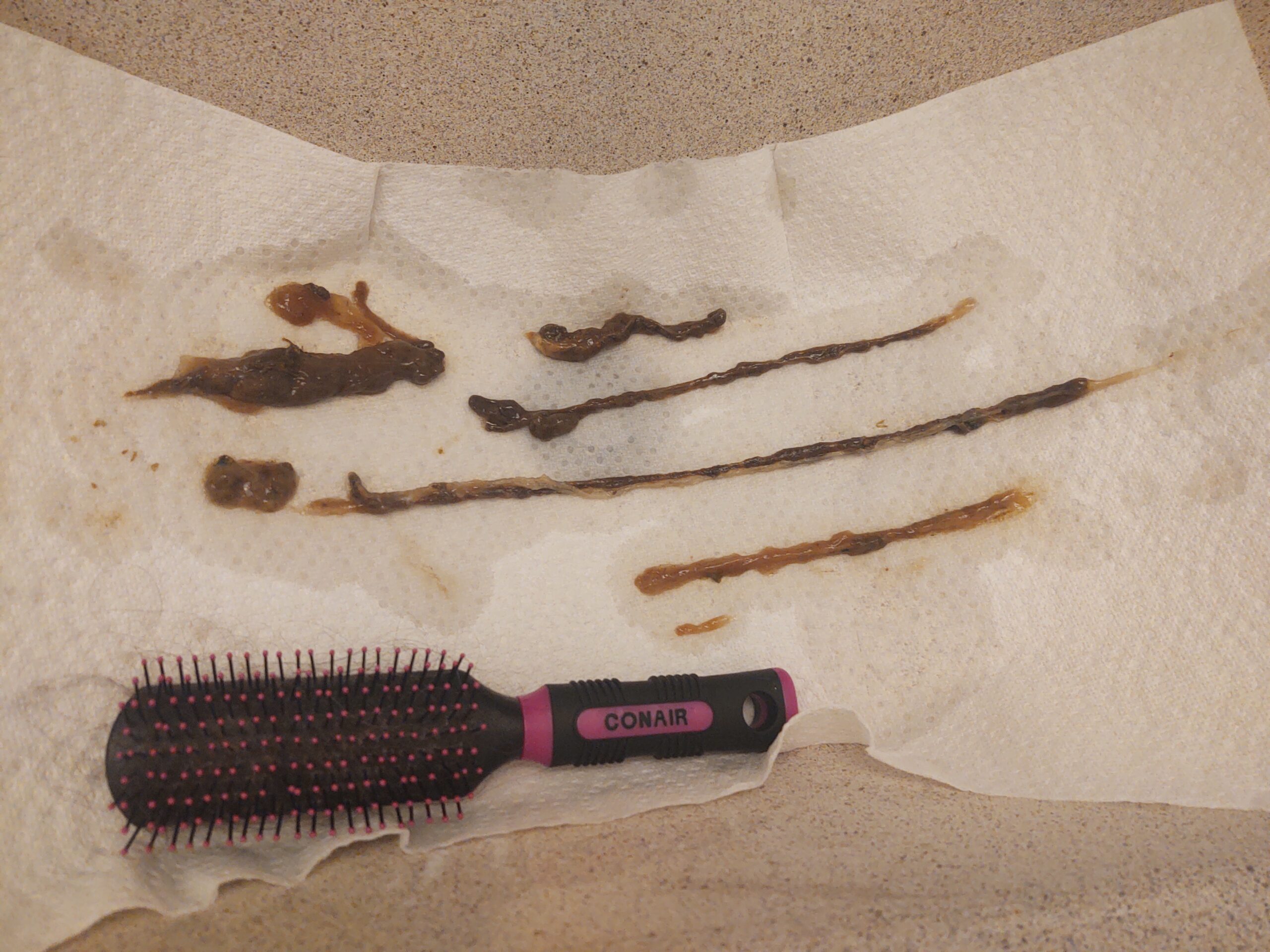 April 15th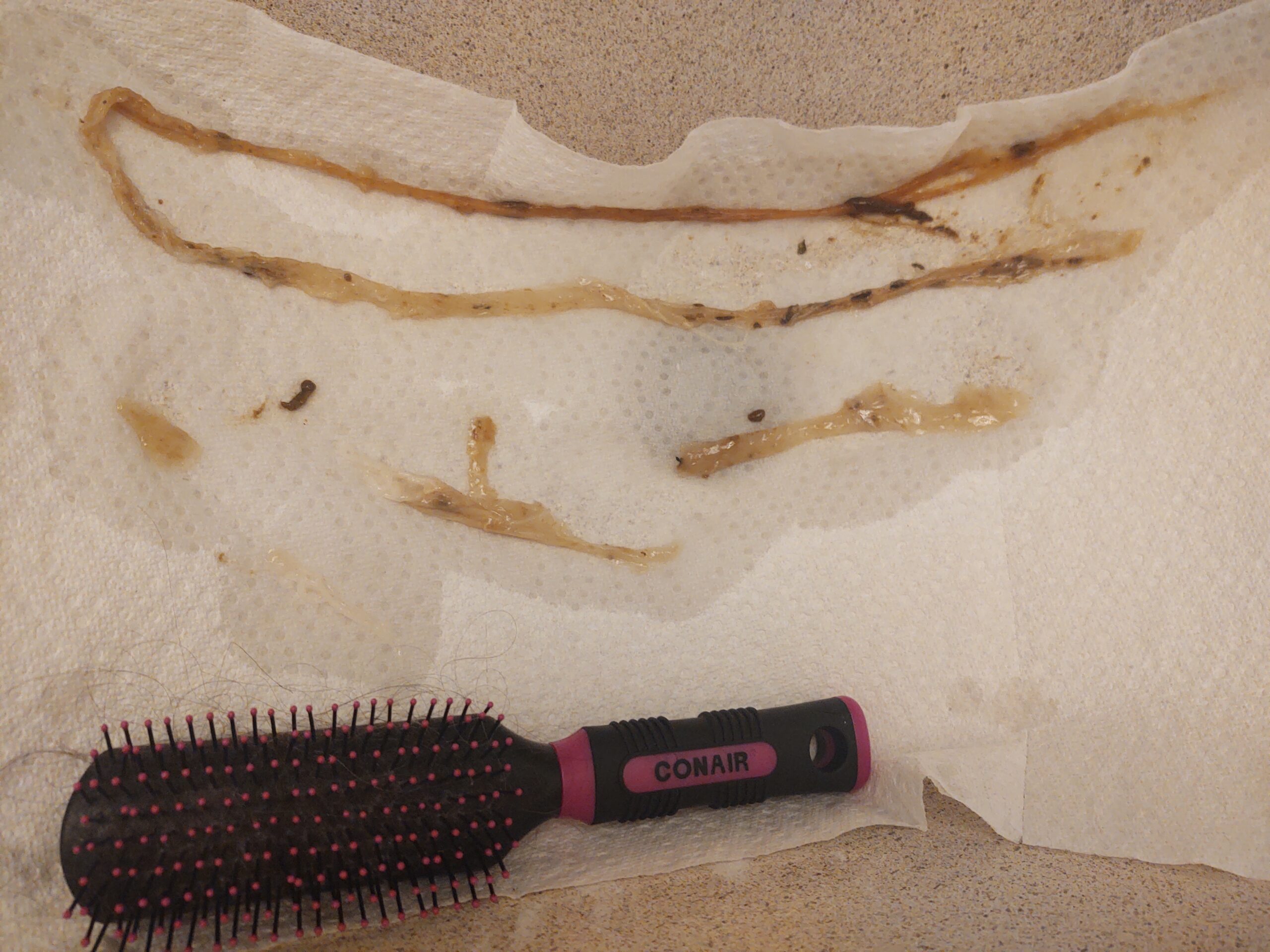 April 16th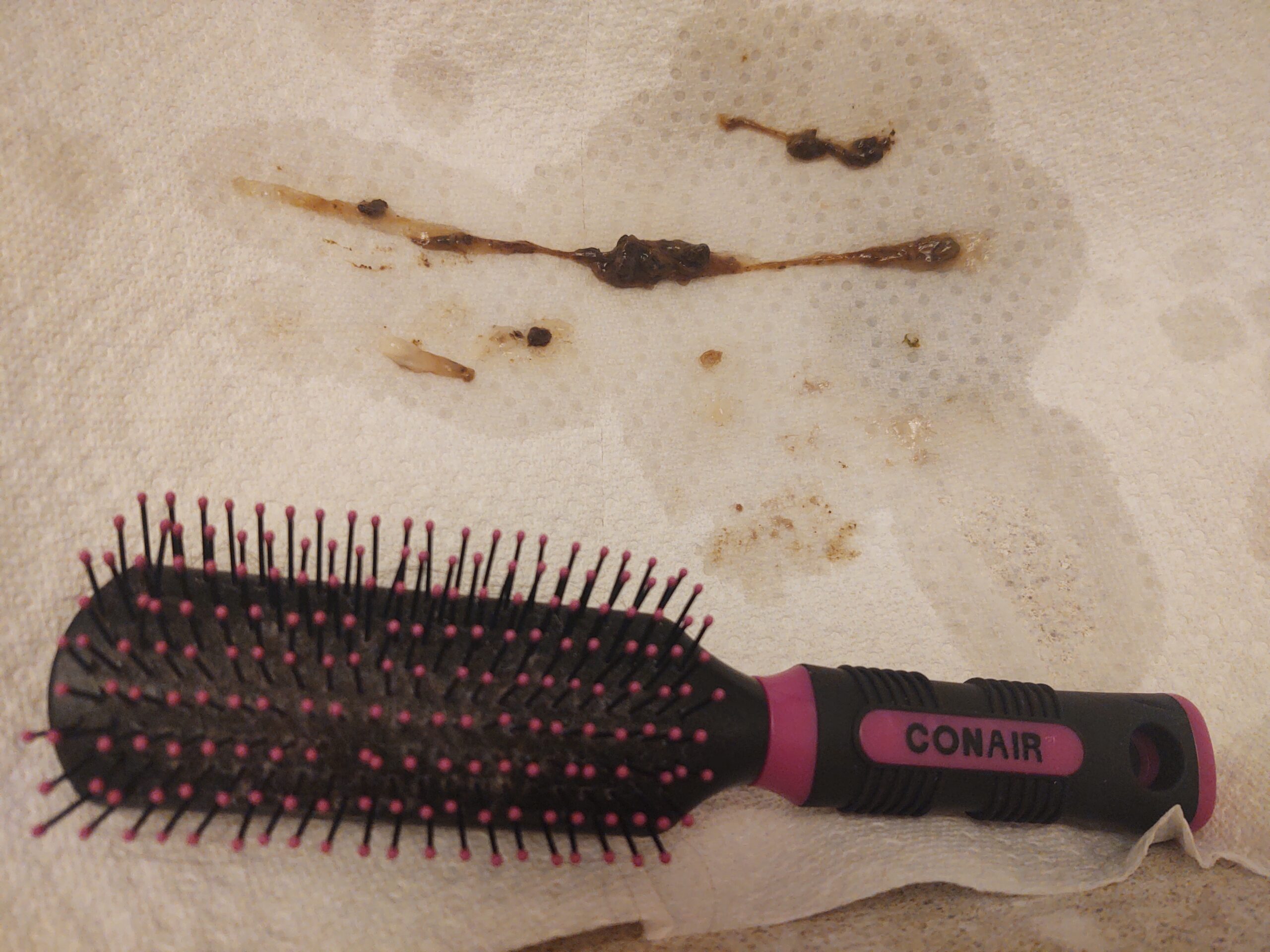 April 23rd Day 8 – 14 of treating
I finished up the 14 days of praziquantel, ivermectin and tinidazole and started treating fungus tonight.
Symptom improvements – "I am holding my bladder and able to make it to the bathroom in the middle of the night. In the past, I could make it to the portable potty right beside my bed, but not all the way to the bathroom. I am so excited about this!!!
I have so, so, so much more energy. I hosted a party at my house last night and had 10 people over. I cooked the entire meal throughout the week and we all had a blast sitting around talking and eating. I haven't done that in years!
I am gaining muscle in my legs that I haven't felt or used in a long time. My lower back is continuing to get stronger and my ability to bend at the core is still improving. I drove a 4 hour roundtrip from my house and I wasn't stiff or sore afterwards which is a big improvement."
April 17th
April 18th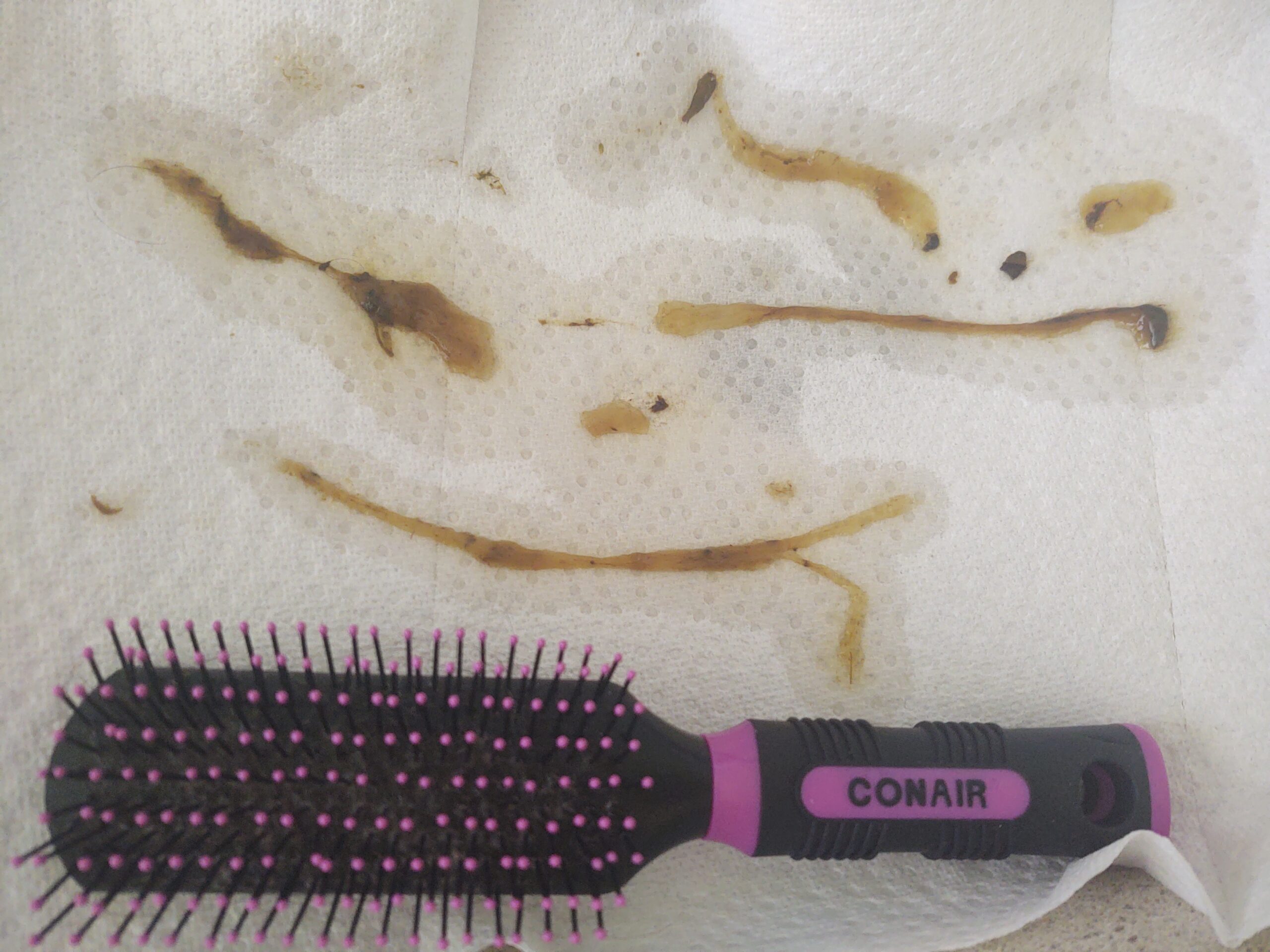 April 19th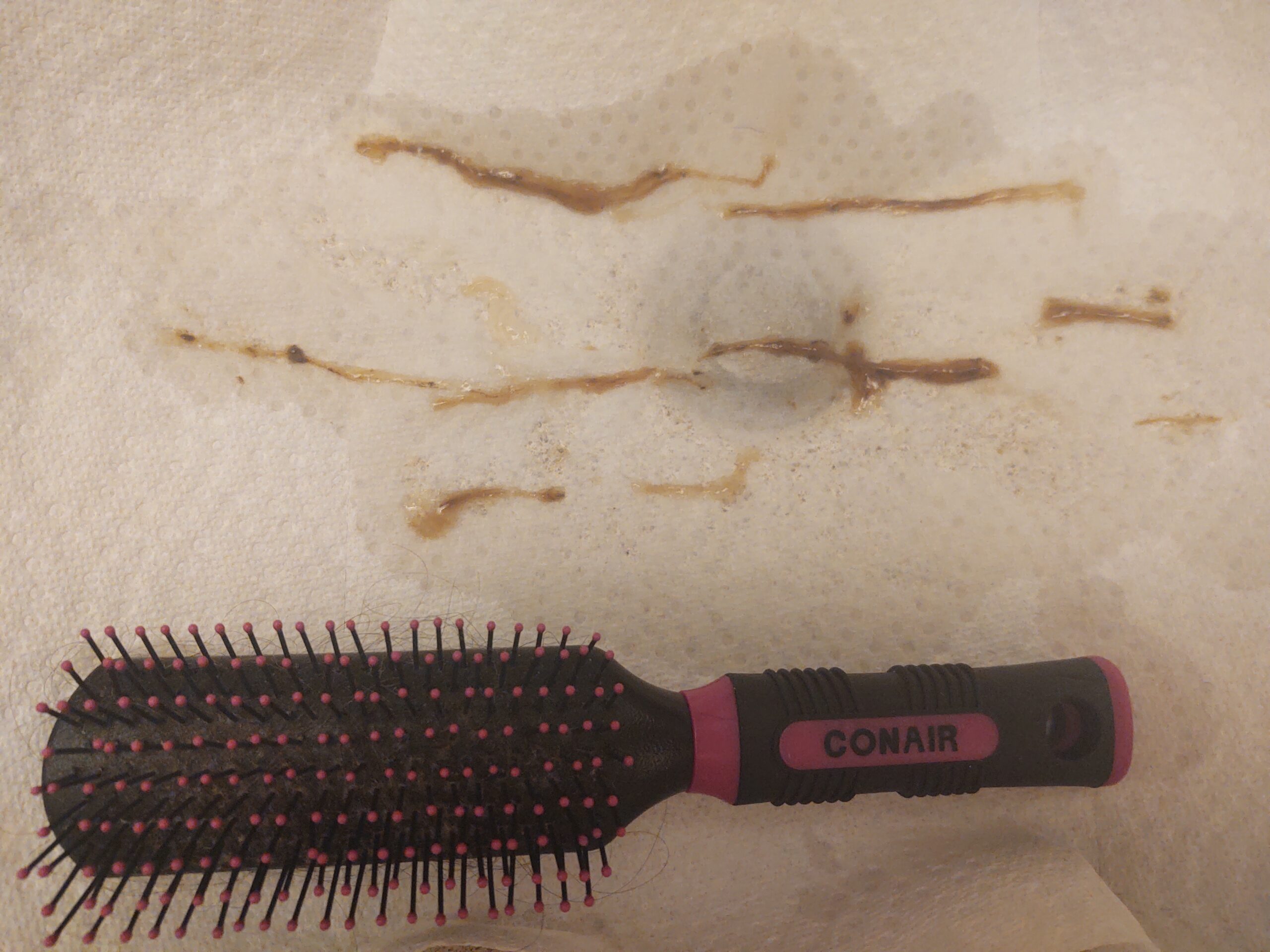 April 20th
April 21st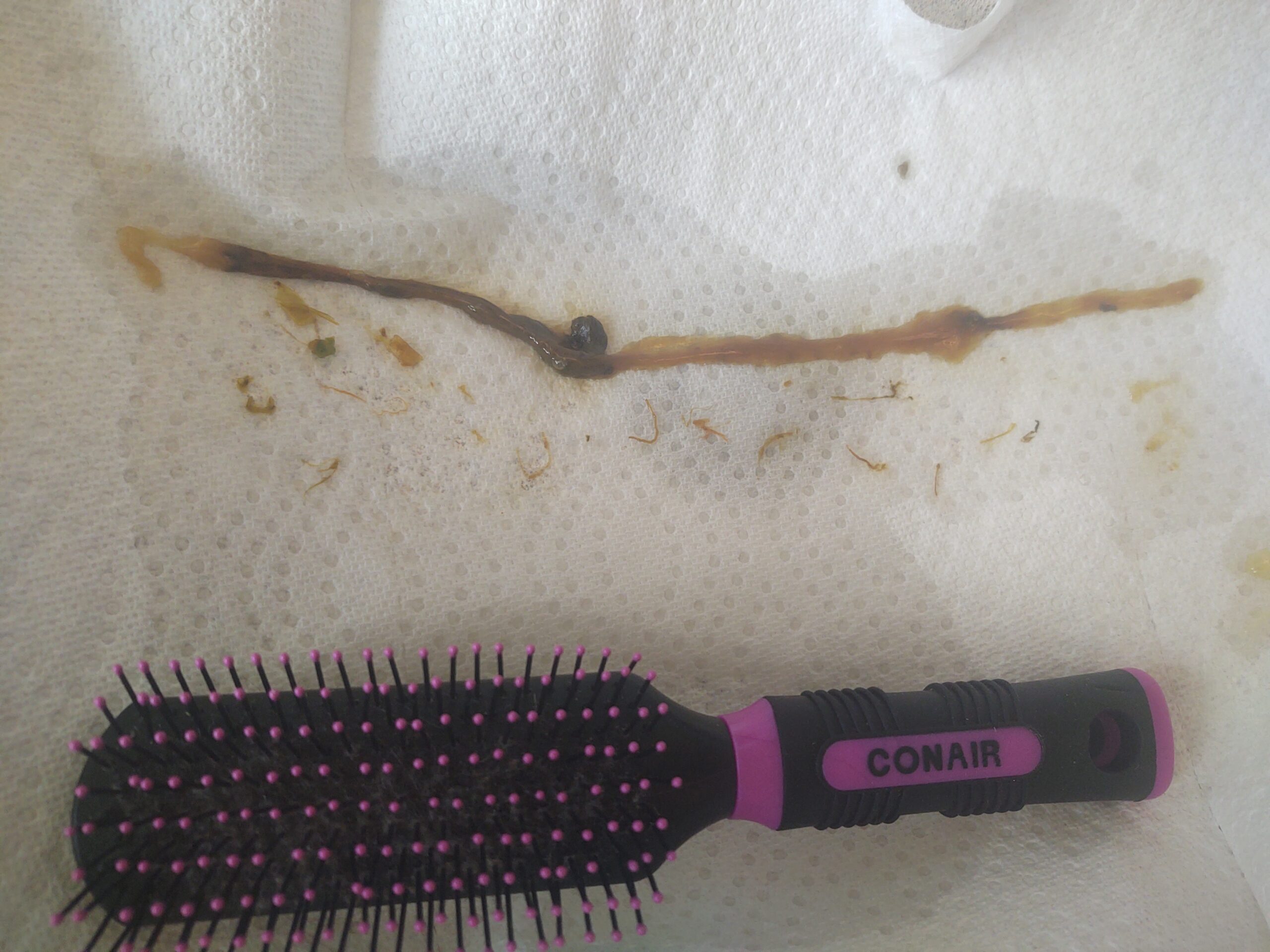 April 22nd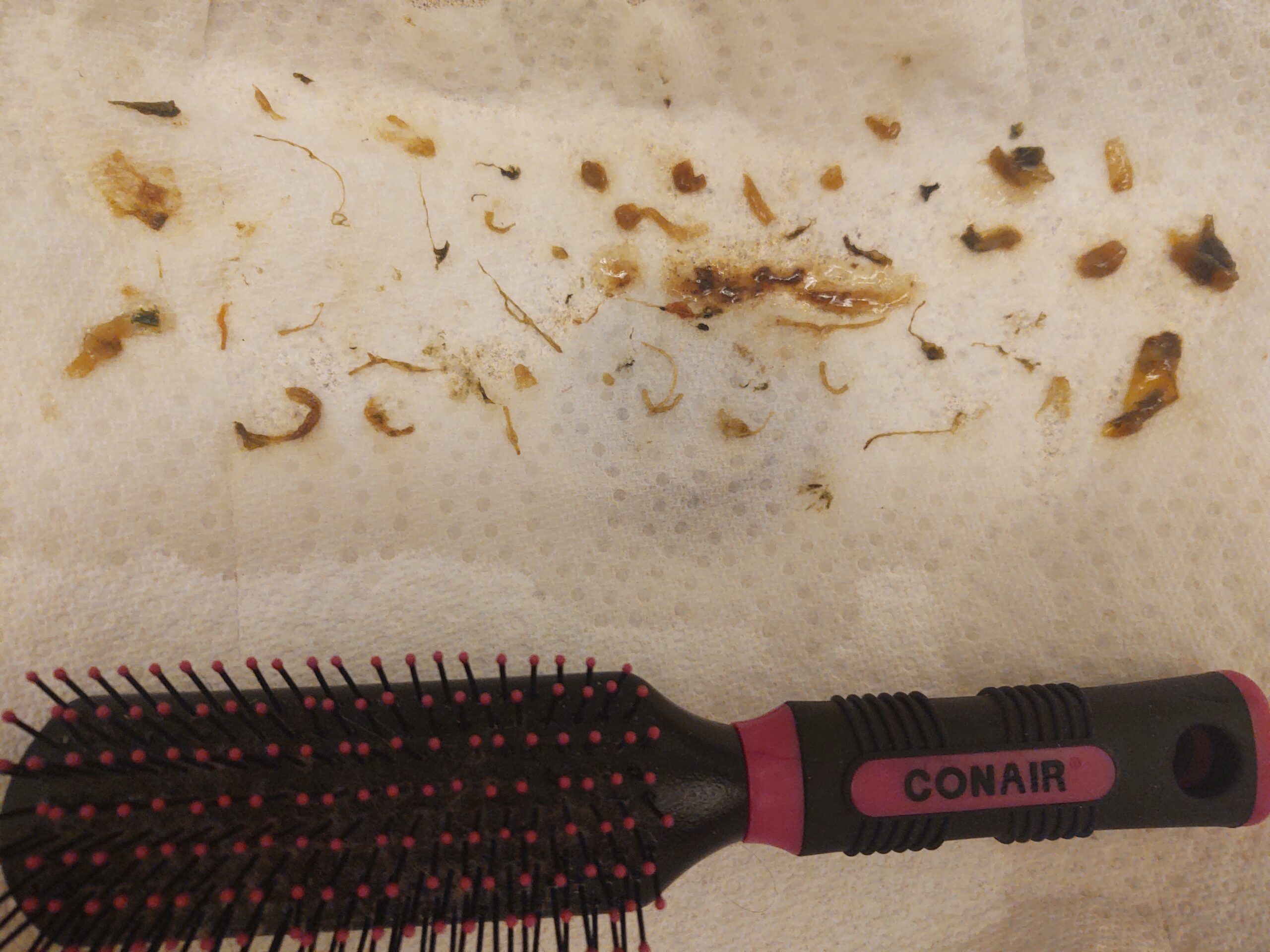 It's truly amazing the parasites that she has passed and the symptom improvements that she is enjoying even though she has not yet completed one treatment cycle. She has suffered with multiple sclerosis for over 10 years, and in just three months she has already experienced life changing symptom improvements. She is starting to live her life again and she has so much more recovery to come.
It is our hope that her success will give you hope that there is a better way to treat multiple sclerosis and all chronic disease. By treating the parasites that cause disease while following a holistic approach, it is possible to recover from chronic disease.
There are real solutions to recover from parasites today!
To restore health, we must focus on treating the cause of inflammation, which are parasites. First, identify the enemy (parasites), then support the body and treat the parasites while following a holistic approach. When parasitic infections are treated effectively, we can overcome inflammation or disease.
If you're frustrated with the fact that our standard of care STILL doesn't offer a real solution for treating MS and other diseases, then click on the link below to watch Pam Bartha's free masterclass training and discover REAL solutions that have allowed Pam and many others to live free from MS and other diseases.
CLICK Here to watch Pam's masterclass training
Or take the Health Blocker Quiz to see if you could have parasite infections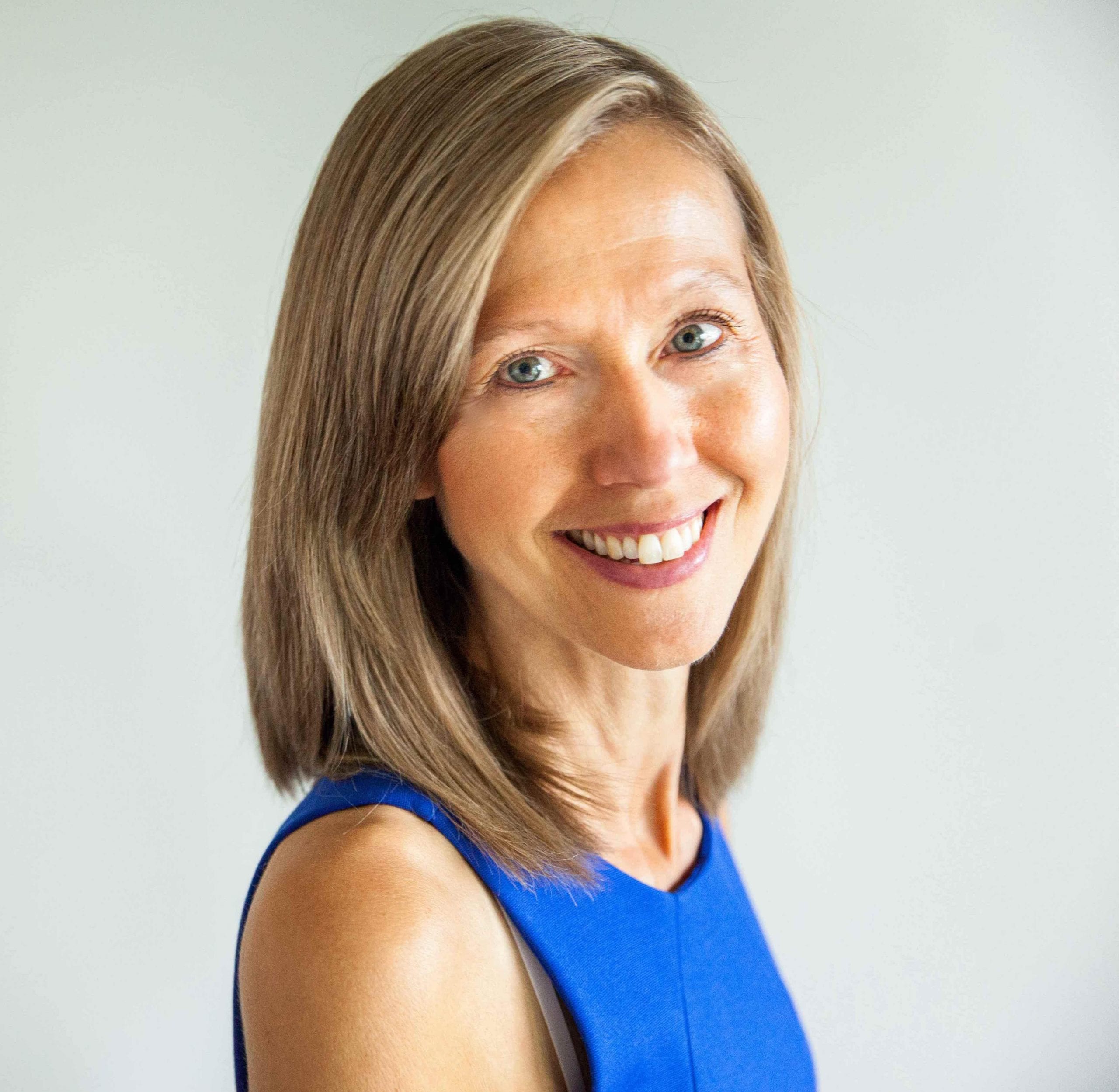 Clinically diagnosed with multiple sclerosis at the age of 28, Pam chose an alternative approach to recovery. Now decades later and still symptom free, she coaches others on how to treat the root cause of chronic disease, using a holistic approach. She can teach you how, too.
Pam is the author of Become a Wellness Champion and founder of Live Disease Free. She is a wellness expert, coach and speaker.
The Live Disease Free Academy has helped hundreds of Wellness Champions in over 15 countries take charge of their health and experience profound improvements in their life.