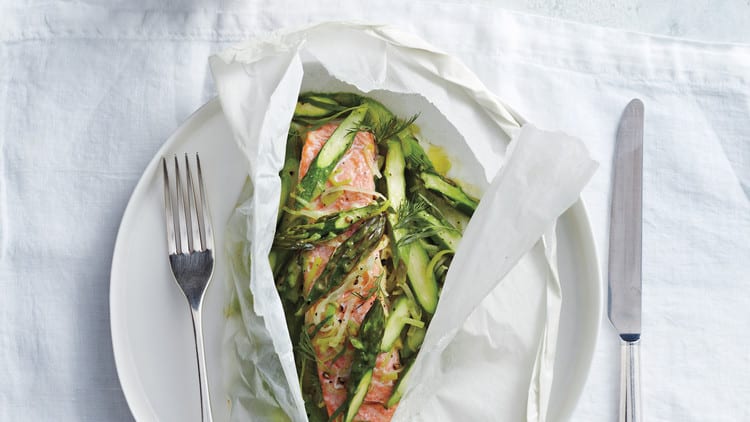 Cooking fresh salmon en papillote (that is, in parchment) is a mess-proof way to coax the most flavour from the fish without adding a lot of oil or butter — and it's pretty much impossible to dry the salmon out with this cooking method. This recipe and photo is from Martha Stewart's 
Better Basics: 10 New Takes on Family Favorites
.
Ingredients
Directions
Preheat oven to 400 degrees with racks in upper and lower thirds. Cut four 12-by-17-inch pieces of parchment. Fold each in half crosswise to make a crease, then unfold and lay flat. Toss asparagus and leek with oil in a bowl. Season with salt and pepper.

Season fish with salt and pepper. Arrange a fillet on one side of crease on each piece of parchment. Top with asparagus mixture, dividing evenly. Fold each piece of parchment over, then make small overlapping pleats to seal open sides, creating half-moon-shaped packets.

Bake on 2 rimmed baking sheets, 10 minutes for medium-rare. Transfer to plates and carefully cut packets open with kitchen shears (steam will be released). Serve, topped with herbs and squeezed with lemon wedges.
To learn how to live disease free, I encourage you to watch my free masterclass training: How to Recover from MS Naturally.
To watch videos from Pam, subscribe to the Live Disease Free YouTube channel.
Clinically diagnosed with multiple sclerosis at the age of 28, Pam chose an alternative approach to recovery. Now decades later and still symptom free, she coaches others on how to treat the root cause of chronic disease, using a holistic approach. She can teach you how, too.
Pam is the author of Become a Wellness Champion and founder of Live Disease Free. She is a wellness expert, coach and speaker.
The Live Disease Free Academy has helped hundreds of Wellness Champions in over 15 countries take charge of their health and experience profound improvements in their life.