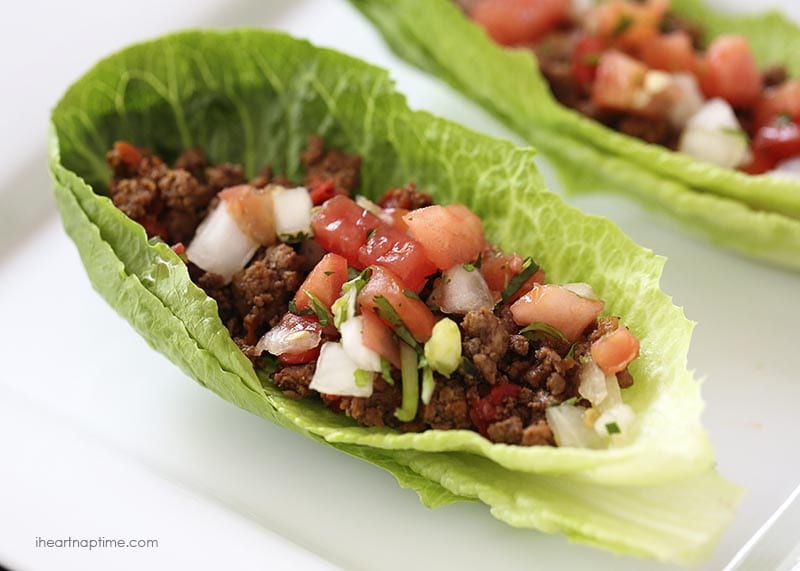 Taco lettuce wraps are a healthy and delicious alternative to hardshell tacos, and very easy to make!
Ingredients:
1 1/2 tsp avocado oil
1/3 cup chopped onion
1/3 cup chopped red bell pepper
1 lb lean ground beef or turkey
1 tsp kosher salt
1/2 tsp pepper
1/2 tsp cumin
1/2 tsp chili powder (omit if you don't like too spicy)
1/4 tsp garlic powder
1/3 cup fresh salsa
romain lettuce head
*Optional toppings:*
Pico de gallo
Avocado
Olives
Fresh cilantro
Squeeze of fresh lime juice
Directions:
In a large frying pan, sauté the onion and bell pepper in the oil over medium heat. Once onions are translucent, add hamburger and brown. Remove any grease and then mix in salt, pepper, cumin, chilli powder, garlic powder and salsa. Let simmer for a couple minutes and then serve the taco meat inside the lettuce.
Top with your favourite toppings!
Image and recipe adapted from Jamielyn at I Heart Naptime.
To learn how to live disease free, I encourage you to watch my free masterclass training: How to Recover from MS Naturally.
To watch videos from Pam, subscribe to the Live Disease Free YouTube channel.
Clinically diagnosed with multiple sclerosis at the age of 28, Pam chose an alternative approach to recovery. Now decades later and still symptom free, she coaches others on how to treat the root cause of chronic disease, using a holistic approach. She can teach you how, too.
Pam is the author of Become a Wellness Champion and founder of Live Disease Free. She is a wellness expert, coach and speaker.
The Live Disease Free Academy has helped hundreds of Wellness Champions in over 15 countries take charge of their health and experience profound improvements in their life.